Mobile archaeology: educational videos on Youtube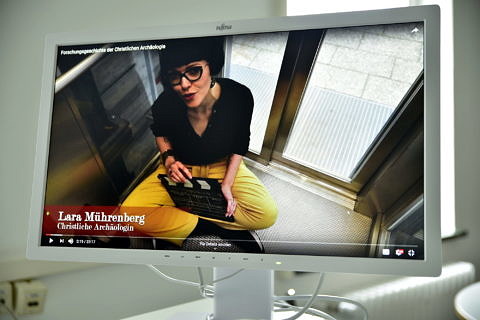 At the Department of Christian Archaeology, scholars and students produce their own educational videos for a YouTube channel.
Making personalities visible
The introductory sequence of a video on the history of research in Christian archaeology: The archaeologist Lara Mührenberg sits cross-legged in an elevator with a film hatch in her hands. She speaks directly into the camera. About research personalities, their intentions to do archaeology, their personal and social backgrounds and about the question whether and to what extent we are allowed to judge people in the past today. "We have to get into conversation with these people. Then they will – I think they will – give us answers," she says and shrugs her shoulders. Aperture. Now follows several fictitious conversations with historical personalities who are of great importance for the history of the subject. Colleagues of Lara Mührenberg have dressed up appropriately for this. Even the holder of the chair of Christian Archaeology, Prof. Dr. Ute Verstegen, is present as an actress. She portrays Gertrude Bell, an explorer and archaeologist at the beginning of the 20th century. She was not only travelling as a researcher in the Near and Middle East, but also as a spy in the service of the British Empire during the First World War. An ambivalent personality by today's standards: She used her scientific reputation and knowledge to help push through political interests. To emphasize this is also the aim of the video. For the Christian archaeologists want to point out that research personalities and their work, actions and views are also to be seen in a specific temporal context.
Educational films that entertain
The video, which is quite long at 23 minutes, covers one of the three categories produced by the team: more detailed instructional videos that deal with complex topics in detail. For this purpose, they go to Potsdam to the Friedenskirche for filming. There are also MTVs, "Micro Teaching Videos". These are drawn and set to music by Lara Mührenberg herself. They serve to practice terminology of column orders or different types of sacred buildings in a concentrated way. In the future a third category will be added: Videos by students for students. Read more…