Hightech Agenda Bayern: FAU establishes two more new departments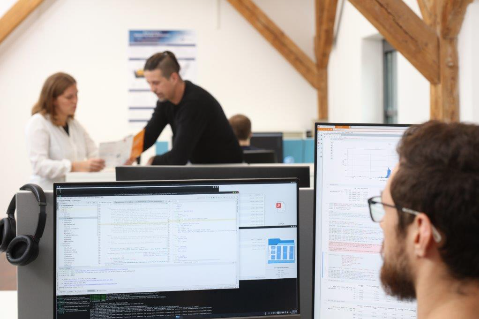 Department Data Science and Department Digital Humanities and Social Studies to start in the new year
As part of the Hightech Agenda Bavaria, FAU is establishing two more new departments on January 1, 2021: The Department Data Science (DDS) expands the Faculty of Natural Sciences and focuses on strong basic research on the mathematics of data science and statistics. Researchers in the department thematically link these fundamentals to applications in fields such as energy, climate, and materials research, as well as digital humanities and medicine. The Department of Digital Humanities and Social Studies (DHSS) is dedicated to the research challenge of translating cultural and social worlds into data and formal models, and interpreting the computer-based analysis to derive implications for our social coexistence.
As part of the reestablishment, FAU is creating five new HTA professorships in the DDS and six in the DHSS. Existing professorships and institutions of other faculties and departments also contribute their research – for example, through a first or second membership of the professors. This also structurally enables a maximum of interdisciplinary work. Both departments dispense with conventional chair structures and are thus further pilot projects for testing innovative concepts for the structural further development of FAU.
"How our universities are using the opportunities provided by the Hightech Agenda Bavaria and the Hightech Agenda Plus acceleration program to expand their research makes me very proud! FAU is exemplary in showing how new, additional professorships can be networked with existing ones," says Bavarian Science Minister Bernd Sibler. "The future is built on ideas, visions and competence. FAU's concept makes that clear! Interdisciplinarity has always been a hallmark of FAU. However, by bringing together scientists in new structures, the previous selective collaborations are now being elevated to a whole new dimension."
Department of Data Science
New HTA professorships (working title):
Information Geometry (Professorship in Information Geometry),
High Dimensional Statistics (Professorship in High Dimensional Statistics)
Computational Stochastics (Professorship in Computational Stochastics)
Modern Approximation Theory (Professorship in Modern Approximation Theory)
Edge Computing (Professorship in Mathematics of Edge Computing)
The new department relies on strong interdisciplinary networking and a consistent application focus. This is in particular also about an intensive cooperation with the Fraunhofer Institute for Integrated Circuits IIS in prospect. At the same time, the topic of Data Science forms a backbone for research at FAU in general: The processing and analysis of data is a core discipline in many fields and thus also a cross-sectional task at FAU, so that all faculties benefit from the research projects in DDS.
The associated profile-forming course of study is the Data Science, Bachelor's and Master's degree program established for the winter semester 2020/21.
Department Digital Humanities and Social Studies
New HTA professorships (working title):
Research-oriented Data Management in the Humanities
Computing Images & Objects in Cultural Heritage
Computing Text and Language
Computing (Geo-)Social Data
Human Computer Interaction
Governing Data Economies
The new department focuses on consistent interdisciplinary networking and targeted collaboration with selected central institutions at FAU. For this type of interdisciplinary cooperation, FAU as a comprehensive university offers the best framework conditions – a clear location advantage when it comes to establishing a strong research focus on Digital Humanities. The transdisciplinary design of the new professorship profiles means that established subjects in the humanities and social sciences at FAU will also benefit from additional digital expertise.
The associated range of courses is formed by the Digital Humanities & Social Sciences, Bachelor's and Master's degree program, which has already existed since 2016.
"With the establishment of the two departments, we are igniting the next stage of the high-tech agenda at FAU and at the same time advancing our university strategy for the future #FAU2025," explains FAU President Prof. Dr. Joachim Hornegger. "At the same time, the professorships located in the new departments will perfectly complement the research of colleagues in the recently established Department of Artificial Intelligence in Biomedical Engineering. What I am particularly pleased about is that our students will benefit enormously from this, because the degree programs 'Data Science' and 'Digital Humanities & Social Sciences' will thus be supported with even more technical expertise and a greater variety of topics."
Both department concepts were selected from a number of internal concept proposals and evaluated and recommended for establishment by both the university management and deans as well as external review panels.
Further information:
FAU Press Office
Tel: 09131/85-70229
presse@fau.de
Article originally appeared at https://www.fau.de/2020/12/news/wissenschaft/hightech-agenda-bayern-fau-richtet-zwei-weitere-neue-departments-ein/