FAU, DATEV and Deutsches Museum launch research project on the privacy-compliant use of visitor data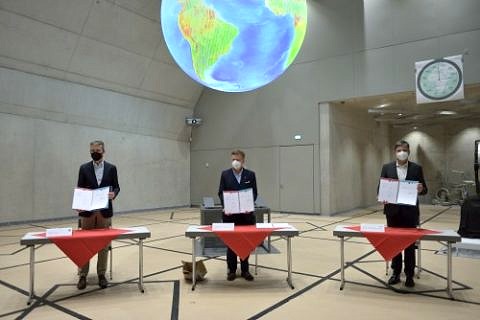 What do I reveal about myself during a visit to the museum? Visitors to the Deutsches Museum in Nuremberg will soon be able to find out for themselves. In a joint project, the museum, DATEV and FAU are working on an algorithm that shows visitors what kind of data trail they leave behind – on a voluntary basis, of course. Now the three partners have signed the contract at the Deutsches Museum in Nuremberg.
At the Deutsches Museum in Nuremberg – the "Future Museum" – possible visions of the future are to be made tangible and tangible for visitors – and as close up as possible. This also applies to more sinister visions of the future with far-reaching surveillance as we know it from George Orwell's 1984: Those who like – participation is voluntary – can in the future have themselves electronically tracked on all paths in the house. At the end, participants will receive a personal profile with an evaluation of what they have revealed about themselves in the course of the visit, what their preferences and interests seem to be.
This makes it possible to experience what is already partly a reality elsewhere in the world, for example in China. There will also be regular discussions about this in the Future Museum forum. The anonymous profiles of the participating visitors will also provide important information for the exhibition organizers and museum staff about which topics are generally of interest to visitors and which texts and films are exciting and comprehensible. This visitor research then in turn feeds into future, even better exhibitions. Continue reading…