Dr. Sibylle Kunz has been appointed Professor of Media Informatics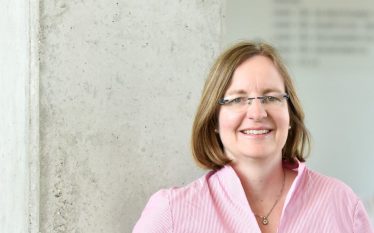 The first doctoral candidate in Digital Humanities, Sibylle Kunz, has received and accepted a call to a professorship in Media Informatics at the Department of IT and Technology at the IUBH International University. She also takes over as head of the Media Informatics study program.
Sibylle Kunz received her doctorate in October 2020 with a thesis on the usability of digital reading media. The goal of the thesis was the design of a reference model for the development of digital reading media. The work combines approaches and theories from media research (media use, reception) with those from the technical sciences (reference model, object architecture, standards) and illustrates how these different expertises can and must be fruitfully combined in order to grasp, analyze, and design a highly complex real-world object (digital reading media).
Sibylle Kunz has analyzed eight objects of investigation in a multi-method approach consisting of expert interviews, content analyses and cognitive walkthroughs, heuristics and user tests with observation in the laboratory and has used this empiricism to test her reference model. She presents a work whose results are already being used by professional publishers as producers of digital reading media.
The work appears by Nomos.
We look forward to further collaboration!
Contact: Prof. Dr. Sibylle Kunz
Source: dhss.phil.fau.de